S3PLUS Technologies SA (S3+®) in the Executive Digest IT Magazine October December 2022!
2022-11-16 Published by: Time To Brand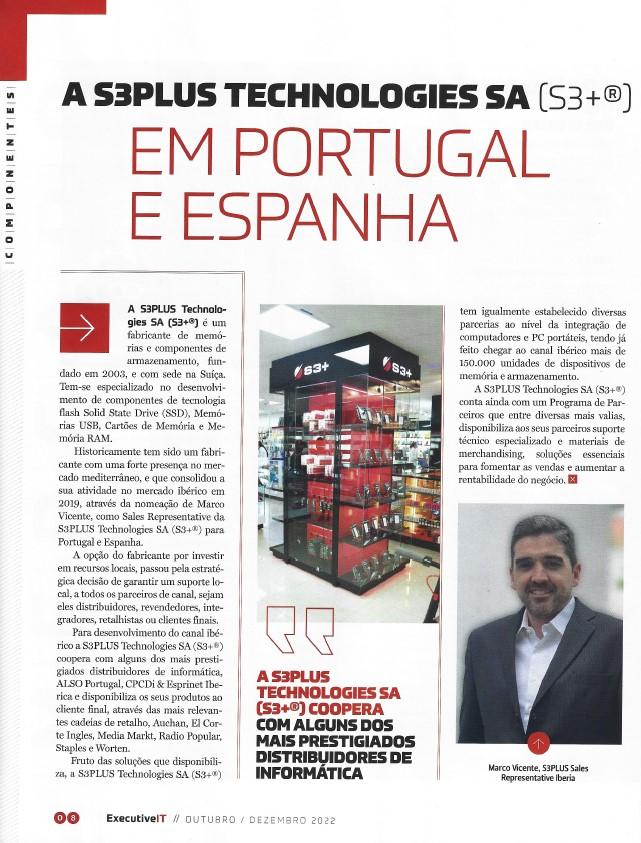 S3PLUS Technologies SA

(S3+®) is a manufacturer of memories and storage components, founded in 2003, and headquartered in Switzerland. It has been specializing in the development of Solid State Drive (SSD) flash technology components, USB Memories, Memory Cards and RAM Memory.
Historically, it has been a manufacturer with a strong presence in the Mediterranean market, which consolidated its activity in the Iberian market in 2019, through the appointment of
Marco Vicente
, as Sales Representative of S3PLUS Technologies SA (S3+®) for Portugal and Spain.
The manufacturer's decision to invest in local resources led to the strategic decision to provide local support to all channel partners, be they distributors, resellers, integrators, retailers or end customers.
For the development of the Iberian channel, S3PLUS Technologies SA (S3+®) cooperates with some of the most prestigious IT distributors, ALSO Portugal, CPCDi & Esprinet Iberica and makes its products available to the end customer, through the most relevant retail chains,
Auchan
,
El Corte Ingles
,
Media Markt
,
Radio Popular
,
Staples
and
Worten
.
As a result of the solutions it provides, S3PLUS Technologies SA (S3+®) has also established several partnerships in terms of the integration of portable computers and PCs, having already delivered more than 150,000 units of memory and storage devices to the Iberian channel.
S3PLUS Technologies SA (S3+®) also has a Partner Program that, among other benefits, provides its partners with specialized technical support and merchandising materials, essential solutions to boost sales and increase the profitability of the business.
Tags: #s3plus #memory #flash #ssd #distribution #retail
« Back